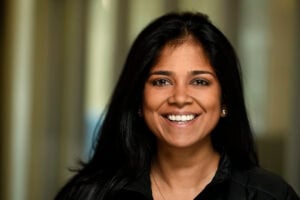 Suchi Saria
John C. Malone Associate Professor
Johns Hopkins University
Research Director, Malone Center for Engineering and Healthcare
Contact
: prefix@suffix where prefix=ssaria and suffix=cs.jhu.edu
Twitter
: Follow @suchisaria
Research Interests
: At Hopkins, I direct the Machine Learning and Healthcare Lab at Johns Hopkins University. We are interested in enabling new classes of diagnostic and treatment planning tools for healthcare—tools that use artificial intelligence and statistical machine learning techniques to tease out subtle information from "messy" observational datasets, and provide reliable inferences for individualizing care decisions. My work spans the continuum from machine learning foundations and theory to demonstrating novel applications in the real-world to informing policy around safe ML adoption.
Prior to joining Johns Hopkins, I did my PhD at Stanford with the brilliant Dr. Daphne Koller. I also spent a year at Harvard University collaborating with wonderful healthcare informatics researchers Dr. Ken Mandl and Dr. Zak Kohane as a NSF Computing Innovation Fellow. Prior to that, I did research with reinforcement learning pioneers Dr. Sridhar Madhavan and Dr. Andy Barto at UMass. While in the valley, I also spent time as an early employee at
Aster Data Systems
, a big data startup acquired by Teradata.
At the end of 2018, we spun out
Bayesian Health
, a health AI startup focused on dramatically improving health outcomes and provider experience. I also sit on advisory boards of several organizations focused on innovative uses of AI or analytics to bring significant societal benefit (see
LinkedIn
for a partial list).
Example press on our lab's work:
Recent:
Press list
2018 and prior:
NSF Science Nation
,
Baltimore Sun
,
IEEE Spectrum
,
Hopkins Magazine
,
Science
,
Hopkins Engineering Magazine
,
Healhcare IT News
,
Popular Science
,
NSF Bits and Bytes
,
Stanford Medicine
,
Pittsburgh Post-Gazette on the Frontiers meeting
,
Talking Machines podcast
,
Popular Science
, and
TEDxBoston
.
PhD applicants:
If you're interested in working with me, please apply to the Hopkins program and call me out as a potential advisor explaining why. I get a very high volume of emails from students so I cannot respond to each one individually. If you haven't heard from me, please don't assume it to mean lack of interest.
Apply here
.
Postdoc applicants
: Over the last 4 years, the lab has done very exciting work in ML/AI Safety. It has led to 15+ papers (at NeurIPS/ICML/AISTATS/Nature Medicine/NEJM) describing new methods for learning, evaluation, and real-world monitoring. Further, this work has been referenced by several regulatory bodies including the FDA in designing frameworks for AI-based medical devices. I'm accepting postdocs who are interested in advancing the theory, practice and policy around real-world monitoring. If you're interested, please send me a note.
Selected Honors, Awards and Notable Events (only lists awards prior to 2018):
Selected Publications (partial list prior to 2019; full list in google scholar): ML=Machine Learning, HI=Health Informatics
National Science Foundation on our work in modeling complex, chronic diseases such as scleroderma
. More
here
.
TEDxBoston talk on Better Medicine Through Machine Learning
.
More
.
NIPS 2016 Tutorial on ML Methods for Personalization with Application to Medicine
.
More here
.
UAI 2017 Tutorial on Machine Learning and Counterfactual Reasoning for "Personalized" Decision-Making in Healthcare
. More
here
.
Slides
.
Video
.
Machine Learning and Healthcare Lab:
Alumni:
Andy Ma (postdoctoral fellow 2014-2015; Assistant Professor at Sun Yat-sen University)
Mu-Hsin Wei (postdoctoral fellow 2013-2014; Data Science @ Bloomberg)
Jose Nino
(Ugrad 2015-2016; Engineering Infrastructure @ Lyft)
Zhou Ye (2013-2014; Data Science @ Alibaba)
Chris Paxton (2012-2013; PhD student @ Johns Hopkins)
Wenbo Pan
(masters student; Computer Science)
Antonia Oprescu (Summer 2014; Undergraduate @ Harvard)
Phillip Oh (Summer 2014; Undergraduate @ Johns Hopkins)
Riashat Islam (Summer 2014; Undergraduate @ UCL)
Ethan Pronovost (St. Paul's High School; Undergrad @ Caltech)
Other News:
– Student news:
Peter Schulam wins the Centennial Fellowship (August 2013). Miruna Oprescu wins second prize at the JHU Summer Research Expeditions program for her work with my lab on modeling health data (Aug. 2014). Ethan Pronovost selected as one of the finalists at the Americal Medical Informatics Association HSSP for his work with my lab on measuring harms due to false alarms in the ICU (Oct. 2014). Zach Barnes won second prize at the JHU Summer Research Expeditions for his work on deploying a tool for prognosticating lung fibrosis in scleroderma (Aug 2015).
– I'm the workshop co-chair for NIPS 2017 with Ralf Herbrich and NeurIPS (formerly NIPS) with Joaquin Quinonero Candela.
– Old talks (I no longer keep my webpage up to date with talks):
– Invited talks at the
iBRIGHT Symposium
, University of Oxford, Princeton, Wireless Health, Informatics Meeting at Penn, Emory University, University of Washington
– Area chair for ICML 2016, SPC for KDD 2016
– Spring-Summer'15 Invited talks at Duke, ENAR, University of Wiscosin, Google DeepMind, University of Pennsylvania, Fred Hutchinson (Data Science to Data Sense Symposium), University of Washington, the VA.
– Daniel Robinson and I won an IDIES seed grant for cost-sensitive predictive tools for preventing in-hospital adverse events (Summer 2015).
– Co-editing a special topics issue for the Journal of Machine Learning Research on "Learning from Electronic Health Data".
– Senior Program Committee for KDD 2015, IJCAI 2015.
– I presented work on opportunities for big data approaches to improve healthcare at D.C. National Press club (July 2014) at the inaugural event on Big Data by Health Affairs.
– I was invited to the expert's panel at the Moore Predictive Analytics Symposium (Sept. 2013) to discuss predictive models from EMR and sensing data
– I recently gave an invited talk at the Data Science for Social Good program in Chicago (August 2013)
– I gave an invited panel talk the National Science Foundation and National Institutes of Health joint meeting on Computing and Health; I spoke with three other invited panelists on the 'Exploiting
Data in Abundance' panel. (Oct. 2012)
– I gave an invited presentation at the DARPA Defense Science Office workshop on opportunities in healthcare computing (Nov. 2012)
– I gave an invited talk at INFORMS Healthcare on the big data in healthcare session (July 2013). INFORMS is the largest meeting in Operations Research. Informs Healthcare is a new meeting focused entirely on healthcare applications. There were ~600 attendees to the meeting in its 2nd year.
– Other selected invited talks: Google (Oct. 2013), Carnegie Mellon University (Oct. 2013), Institute for Computational and Experimental Research in Mathematics at Brown University (Nov. 2012), University of Vanderbilt Grand Rounds in Informatics (2012), University of Maryland Machine Learning Seminar (2012), International
Society for Bayesian Analysis (ISBA) (July 2012).
Teaching:
Previous: 600.476/676 Machine Learning in Complex Domains, 600.775 Seminar in Machine Learning and Data-Intensive Computing
FAQ:
Q00. I am an international student and I want to apply to your PhD program. Are you taking students?
We get 5+ emails of this type per week through the fall. As a once international student, I understand the anxiety of being on the other side. First, these emails are not effective unless you've read the faculty's papers and have something intelligent to say. So, don't bother wasting your time. Second, let me explain a common issue with PhD admissions for international students. Typically, CS programs tend to fund their PhD students through the length of their program (5 years). This means faculty tend to be risk averse. Having sat on PhD admissions committees, most faculty find it challenging to assess the background of an international student because they don't often know your school or your advisor. It's also difficult to gauge whether your grades are highly competitive or not. As a result, most committees pass on international students unless they have an *obviously* strong application. If you're serious about research and getting a PhD, and don't have a strong research background (i.e. published papers in top conferences and strong recommendation letters), apply to the masters program. Very often, we take our strong masters students as research assistants after a semester or two. This gives you a chance to build credibility. And, very often, you can recover the cost of your masters through industry internships which pay quite a bit. Also, at a place like Hopkins, there are many faculty outside of computer science that are looking for strong programmers for a research project. That funding can tide you over until you find a lab. But, in the long run, it's more fruitful to apply to a strong masters program with the goal of switching to a good PhD program rather than going to a PhD program with a poor fit.
Q0. I'm primarily interested in machine learning. But, I'm unsure of the application area. Do I need to have determined this ahead of time?
Q1. I'm a student at Hopkins and I'm interested in working with you. How can I get involved?
Please take a look at my papers. If you still remain interested, please send me an email. It's often also helpful to speak with the students in the research group to get a flavor of the problems you could get involved in.
Q2. I'm not at Hopkins currently. Can I apply to your lab for a PhD?
Q3. I'm an undergraduate and I am looking for internship opportunities. Can I visit your lab?
Q4. I'm looking for postdoctoral or research scientist positions. Are there positions in your lab?
We are always looking for great people to join our group. There is flexibility in terms of the projects you can get involved with. Please send me a copy of your CV if you'd like to learn more.
Q5. I'm interested in machine learning and your work but I have never worked in medicine/biology/healthcare. Do I need a medical background to work on healthcare projects?
Q6. Why Hopkins?